Juice Plus is a whole-food based product line produced by Natural Alternatives International that is distributed in a multi-level marketing / direct sales fashion and business model.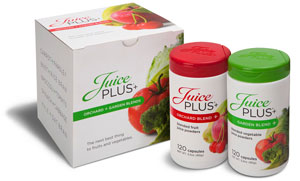 Their 'farm fresh product line' has been concentrated and formulated into powders and promises via their website to be "the next best thing to real fruits and veggies". Juice Plus+ has 2 flagship featured products and powders, containing a pure concentrations of ingredients from over 25 selected whole fruits and vegetables, Orchard Blend and Garden blend (capsule and chewable), which we will elaborate on more.
As a company since 1993, Juice Plus' official website states their main purpose is to bridge the gap amongst individuals who often lack necessary nutrients for optimal daily nutrition and those looking to start a virtual franchise business by helping others get healthier aka "share the health, spread the wealth". It is worth noting that Juice Plus is not a multivitamin formula or medicine, but has been cited and published in health journals and has undergone clinical research and study.
However, you can learn much more in-depth information about their products and perceived benefits on their website because our primary focus and intention is to outline and review if selling the Juice Plus+ virtual franchise business model is worth while – after all, we are a site about making money first and foremost.
Juice Plus Virtual Franchise Review
Before we jump into the juicy details and add our two cents, we do want to send the caveat that we are not affiliates, members, or owners of the Juice Plus+ virtual franchise business opportunity.

However, that is not to say take our review with a grain of salt because we have been around the network marketing industry for nearly 9 years, day in and day out, seeing many programs and companies come and go.
And that is how we feel we should kick things off – when collecting information to write our "virtual franchise review", as we mentioned, the company has been operating and functioning since 1993 – and as many of you hopefully know its 2014 going on 2015 (lol) – so chalk one point up for being in business for more than 20 years successfully – that in itself is an impressive feat and benchmark worth noting upfront that simply can not be overlooked.
Back to the business at-hand, it is no secret that "healthy is in" as feeling and looking good is something everyone should be striving to do – and that opens the discussion for how much potential the right 'health business' can offer. It begs the question, if you are here – is now the time to 1) get healthy and 2) share wellness with others
That is by far the biggest advantage to Juice Plus+'s franchise program – is that the growing demand for nutritious supplements and products is at an all time high. Let's yo-yo back to get a quicker look at the product line then finalize and conclude whether or not their products make for an ideal business to promote.
Juice Plus Products
Since their long-ago launch, they have been working and adapting with a variety of fresh fruits and vegetables that were made into powder and sold in capsules, which are under the names of Garden Blend capsules and Orchard Glen Capsules as previously mentioned.
Additional to the health supplement capsules, the company also provides beverage mixes, granola/fruit bars, and a variety of whole fruit chewables.
Every capsule and beverage in the Juice Plus product line is made with high quality ingredients that come from vegetable and fruit farms.
Rather than owning fruit and vegetable farms, the company works with middle size farmers all over the country, always searching for the highest quality ingredients and inspecting farmers operations to make sure they use the most natural solutions in the farming process.
After the harvesting process the juice from fruits and vegetables is extracted before being pulverized and dried to a fine whole food powered, which then is turn into capsules.
Juice Plus offers 5 overall products and 2 main one:
The two main ones are The Orchard and Garden Blend and Orchard and Garden Chewables.
Other products in their product line includes:
The Vineyard Blend, The Vineyard Chewable and Juice Plus complete.
Juice Plus NSF Tested & Certified
The NSD (National Science Foundation) is a non-for profit organization that ensures the quality of ingredients in supplement labels. Out of over 5,000 products in the market place only 347 from 32 different distributors appeared to have this certification. This certification assures product users that Juice Plus is dedicate to use the highest and best quality ingredients when it comes to their products.
The NSF label is proudly display in all bottles of Garden Blend and Orchard Glen supplements from Juice Plus.
Selling The Juice Plus Business
Everyone who has been here and spoke up always had the same question in mind, "how to sell Juice Plus or how much money can I make selling it?"
And our abbreviated answer – who knows.
As we mentioned earlier, Juice Plus origins are centered upon using the network marketing MLM distribution system (something we are big fans of here and believe in). Since their products are of alleged high quality, we see plausible potential in being a viable opportunity for individuals desiring to create a residual income in the health space.
However, regardless of ANY business you promote – there are always vital factors which will determine your success.
We always talk and refer to the "6 Expert Elements" that any ideal business needs and has to have in order to make it work for you. Those are the company management, timing, what's trending, the product line, the compensation plan and the system (virtual franchise) which will allow for maximum results and advantage for your efforts.
Some of the benefits of the multilevel business with Juice Plus include:
• A good and steady money source that can be ideal for retirement.
• The ability to work from home and in your own time.
• Great commissions.
• Pay outs on the work of your down line.
• The distribution of products that people benefit from.
To obtain ideal success with Juice Plus, it's necessary to recruit new members into your organization that are highly motivated and posses an entrepreneurial spirit. Also anyone who enjoys the products and wants to build a business by simply sharing their Juice Plus success story by telling others how the juices have help them is a great candidate as a business representative.
But this is where our Expert Money Team can help and is the essence of why we reviewed Juice Plus – because we can help you, the seeker trying to make ends meet and see if you can make this virtual franchise system work for you.
Please reach out and shoot us an email if you are interested in having us help you grow and sell your Juice Plus business – because we have what it takes and have proven it time and time again.
If you scour over their website, the mention the majority of their affiliates are people who love their products and enjoy sharing their personal success and results. Also, as how most network marketing companies run, by becoming an affiliate of Juice Plus you can get their products with a discount and earn extra commission when you share the business with others.
We hope this gives you a better game plan moving forward about the options and ability of being apart of Juice Plus+. Leave your comments and feedback below and be sure to reach out to us if you want help getting started and growing your business!
Want To Make Money With Us?

Since 2006, we have been 'making money online'. Now, in 2015, the money team and I want to send you free gifts for ways on how to kill your JOB and generate a sustainable, substantial, sensational income.