August 2015 Update – ILS is now transitioning into an upgraded opportunity and will now be operating under the name of Traffic Authority.
Without changing the detailed review below of ILS, we will focus all of our efforts moving forward on our new Traffic Authority review listed above.
Infinite Leverage System is a new online MLM traffic generation marketing software suite featuring the Click Brilliance tool which is sure to bring the industry to its feet.. but should we all rise or is ILS setup for an epic digital demise?
Without even the hesitation or hassle of reviewing the ILS Click Brilliance platform, we just want to sell you on the idea (whether this is the right business opportunity or not for you) that ONLINE TRAFFIC is the life blood of anything you sell, promote or offer.
Traffic? We talking about traffic!
The way our money team sees this is hit or miss, doomsday or boombaby mentality – meaning – you and your hopeful business ventures are only as good as the targeted traffic (and amount) it receives on a daily basis ..
Safely said, quality >>> quantity.
In order for our expert overview of Infinite Leverage's Click Brilliance link tracking system to be 100% authentic and genuine – we will have to test the traffic ourselves first.
Once we have accurate data and sufficient feedback we can correctly and properly analyze the percentages and perceptual patterns of how well the traffic is doing for our select business opportunities.
However – this should not stop you from taking action – we jumped in head first because we believe in the holy trinity of internet marketing:
Automation
Leveraging Systems
Outsourcing
And what does Infinite Leverage System offer with the Click Brilliance Marketing Suite:
1) Advanced Link Tracking System
2) Mobile Traffic Tracking & Direction
3) Website Monitoring Alarm & Redirector
4) Easy To Use Exit Pop Up Builder
5) Produce Custom Countdown Timers
6) Unlimited Unique URL Rotators
7) Highly Regarded A/B Split Testing
8) Duplicate Click Redirection Checker
9) GEO Targeting Capabilities
10) Earn Promoting Click Brilliance
All that and then some (at least we think and hope at the moment for it sounds extremely promising)
For the mere cost and price point of $27, you can get started referring people who you know inside the industry looking to gain more traffic (ideally qualified and verified) to any affiliate program or network marketing company you want.
It is estimated that 70,000,000 people operate and work inside the home based business space – which is TINY compared to the global population of nearly 7 billion individuals!
Now – why do we bring this to your attention – knowing this means nothing yet everything at the same time .. its simple:
We believe a new era has dawned upon us all, effectively calling it the Internet Income Age and feel that futuristically hundreds of thousands and even millions of entrepreneurial-minded people will be looking for ways to supplement their income through internet-based residual opportunities just like ILS.
Now, we do not have a crystal ball and do not want to act like we know it all – however – what is cool about this – is when we dug up the "company management" behind the business – we found some familiar faces.
Who are the 'top dogs' behind Click Brilliance System and Infinite Leverage Opportunity?
Founders:
– Doug Wellens
– Chad Stalvey
– Greg Chambers
Master Distributor:
– Mack Zidan
We have actually crossed paths with all of these gentlemen at various events in the industry and were all duly noted and recognized as "elite online traffic related gurus/brokers" in the CPC (cost per click) and CPA elements of traffic generation.
They offer all shapes and sizes of potential traffic packages that you can buy and 'point in click' to your offer of choice.
Here is the ILS Internet Traffic Packages:
Basic: $220 for 170 to 190 clicks
Bronze: $440 for 340 to 380 clicks
Silver: $660 for 510 to 570 clicks
Gold: $1,097 for 850 to 950 clicks
Platinum: $2,197 for 1,700 to 1,900 clicks
Titanium: $4,297 for 3,400 to 3,800 clicks
As you can see, ILS and CB mean business. No matter how big your budget or bank account, you can find the right fit for you.
Keep in mind that you do not have to buy ILS traffic packages to use Click Brilliance and earn money..which is what we should discuss next since that's why we are all here…to MAKE MONEY.
Infinite Leverage Compensation Plan:
As we mentioned, Click Brilliance cost $27 per month – for referring someone you will earn a hefty $20 per month per referral (good pay out all things considered industry wide)– however, there is a 'pass up coded' style system made specifically to support 'incentivized team building'.
How that works is outlined in this picture: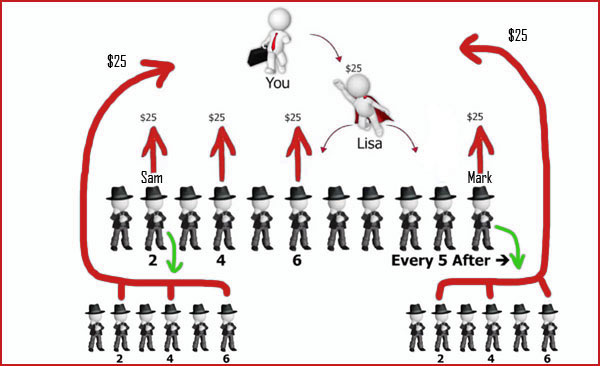 Essentially saying your 2nd, 4th, 6th sales will all be considered 'pass ups' to your direct sponsor as well as every 5th after (11, 16, 21 etc).
This can get very fun and exciting as we grow our expert Infinite Leverage team.
Now, on the ILS Traffic Generation Packages: You will earn a whopping 40% on EVERYTHING EVERY one of your people purchase on .. for life .. now … this is amazing .. but also leads us down a moral path and conscious concept where we must break free for a moment and outline the risk vs the reward.
Either 3 things will/can/could happen.
1) Traffic Sucks
2) Saturated Traffic
3) Savvy Techniques Applied and Implemented
Now, why do we 'break state' to comment or as some might take it as contradict what we are reviewing and stating here..
Is that there is no INFINITE/UNLIMITED amount of clicks/traffic/people in the world are readily available to possibly supply all of our money-hungry marketing minds and brains…and I'm speaking (or typing) from direct experience and first-hand knowledge .. traffic is a numbers game .. and optimization of conversion is dedication to the craft and creativity of what you can do – both individually and collectively – now you might have to re-read rational rabbit hole theory .. but what we are inputting into your possibly doubting mind threshold – is that there are 6 expert elements we discuss and debate about when joining a business opportunity like Infinite Leverage.
Ok now let's talk some free bonus offers for those brave and bold marketers who want to try Infinite Leverage System with us:
And Yes, we realize our reputation is on-the-line but feel as if we will do-just-fine because of the timing and trending of the pertinent, potent question "how to increase targeted website traffic?"
Being a make money focused website, we KNOW how important and significant it is to get and gain quality targeted traffic to your website daily…and up until now, we could only help people by the handful .. and now feel through Click Brilliance and ILS that we can help people by the 'hundredful' … FAST!
So here is what we want you to do in order to join us and take advantage of our ILS bonus offer:
1) Join ILS and Use Click Brilliance
2) Email makemoneyexpert@gmail.com
3) Reach out on the ILS Community Facebook Page at http://www.facebook.com/InfiniteLeverageSystem
4) Attend our ILS TEAM ONLY SEO Webinar on how WE will help YOU rank YOUR websites! ***DO NOT MISS THIS.
Please leave us your feedback and recommendations as we will be continually updating our Infinite Leverage System review just for you to see our progress and/or success!
Want To Make Money With Us?

Since 2006, we have been 'making money online'. Now, in 2015, the money team and I want to send you free gifts for ways on how to kill your JOB and generate a sustainable, substantial, sensational income.