AdvoCare Review
People from all over the world realized AdvoCare is the most interesting business venture they could choose. This company offers great opportunities to make money and help others along the way. Some call Advocare "a proven vehicle of success". Not only because the opportunity is solid, but because the products simply work, and are backed by some of the spots worlds top athletes.
It allows you to make money faster, while running a business. Lots of families across USA are taking advantage of running a business from the comfort of their own home. Reaching people's true potential is what AdvoCare is all about.

AdvoCare Information
The times for joining AdvoCare have never been better. The entire world is concerned about nutrition and financial opportunities, nowadays. This company has the ability to help people meet their healthcare and financial needs.
Founded by Charles Ragus in 1993, AdvoCare sells nutrition, weight-loss, energy and sports performance products. Millions of people have had great experiences using their creations. The AdvoCare nutritional supplements have managed to make lots of people's lives easier and healthier.
Headquartered in Plano, Texas, AdvoCare sells through its network of approximately 60,000 active independent distributors. All these members participate in a compensation plan that uses a direct sales model. Multilevel marketing or MLM is about money making no matter what company applies it.
How to Get involved with AdvoCare?
Joining AdvoCare is your first step to realizing your potential with quality products and a proven plan for success. It's up to you to decide how you want to get involved. Whether you want to become a product user or take advantage of the business opportunity, AdvoCare can change your life.
There are 4 ways to get involved with the AdvoCare compensation plan. I will explain the difference and how to get started with AdvoCare as a Distributor or Business Builder. The path you choose is only up to you:
RETAIL COSTUMER – if you only want to live a healthy life and take care of your body, this might be the ideal way to get involved with AdvoCare. This is a great way for users to order their product and continue to live a healthy lifestyle. But as a Retail Customer only, you would be paying full price for the products.
DISTRIBUTOR AT 20% – if you use AdvoCare products on a regular basis and you also decide to become a Distributor, you can take advantage of the discounts this program has to offer.
DISTRIBUTOR AT 20 TO 40% REDUCTION – sharing products with anyone can bring you additional income.
ADVISOR AT 40% – this is what others call business builder. If you want to make a serious business from your AdvoCare plan, you should become an Advisor. It doesn't matter if you decide to use this opportunity as a full or part-time opportunity. Advisors get the highest discounts and the greatest earning potential. In two years of work you could earn around $40,516 annually as a 3 Star Gold Distributor.
How Do You Become A Distributor
If you are happy with the products at AdvoCare or decide that you want to create your own home based business, then becoming an AdvoCare Distributor is your next step. But how do you become one? How much does it cost? How do you increase your percentage off products?
I will try and answer these as best as possible.
How Do You Become A Distributor? – It's easy to sign up. You simply input your information and tell them where to ship your Distributor Kit that has a free box of Spark energy drink and Slam as well as marketing material and additional information on the company that is worth over $50.00 in product and promotional material.
How Much Does It Cost? – There is no monthly fee, only a yearly membership. At first it costs $79 as well as any applicable taxes and a $7.45 shipping fee. Each year after that it will be $50 per year plus any taxes and shipping. Besides that, there is nothing else you NEED to do to earn 20%+ off on products and promotional material.
How Do You Increase Your Percentage Off? – After you have joined as a business builder, you can start buying product at a discounted rate of 20% without doing anything else. But that can quickly increase if you start purchasing product to sell to others or your enrollee's start selling as well. Here is the list of discounts as well as how much Volume needs to be purchased in the Personal Group Volume (one to three consecutive pay periods):
$0.00 – $499.99 = 20% Off
$500.00 – $1499.99 = 25% Off
$1500.00 – $2999.99 = 30% Off
$3000.00 – More = 40% Off = Advisor Level
As you can see, the discounts can add up quickly once you start purchasing more product and gaining new enrollees. If you are confused about the "one to three consecutive pay periods" part, it basically means you would need to order that amount all at once or within a 4 to 6 week period or gain that amount in retail sales.
AdvoCare Training and Support
AdvoCare offers its Advisors everything they need. In other words, you can benefit from costumer support and service. The guys behind the curtains are always ready to help you succeed. Team up with a Sponsor and a talented home office team will provide all the resources and training needed for a business of such kind to succeed.
The most important training event on the calendar is the Success School. Most of the AdvoCare distributors have graduated it and they are now on their way to becoming rich and successful.
AdvoCare Leads Program
One of the best reasons to head to AdvoCare Success School is that after you head to one of the events you can begin to qualify to get Free AdvoCare Leads in your area. When potential customers are looking for an AdvoCare sponsor in their surrounding areas, Distributors that have been to Success School, along with meeting other qualifications, will have their information displayed to the lead. – This is a great way to get free leads that are searching for and interesting in joining or buying the products.
Is that all you need to do to qualify for Free Leads? – There are two other things you need to do in order to keep getting free advocare leads. Here is the list of three things you need to do in order to be eligible for the Leads Program:
Qualify As A Leads Team Member

Average $250 in overrides per pay period (About 6 months)
Recruit 1 New Distributor that also becomes an Advisor.
Must be in Good standing with Company.

Signed up for Next/Upcoming Success School
Must be in Good standing with Company.
The point of this free leads system is to help inspire and reward members for doing great work with their home business. They do a great of job of rewarding members that continue to build their business by providing trips, bonuses, and company recognition.
Do AdvoCare Products Work?
Many people are looking for ways to lose weight these days, but what is the right way to do it? There are so many options available; cleanses, diets, juices, supplements, and workouts or even just doing the not so smart thing of just not eating (please don't do that).
All of those can be great options, minus the latter, if used correctly. And for best results, a combination of each of them can and should be used.
That's what I did and how I lost 10.2 lbs. (-5.4%) and 13.5 inches (-4.8%) in just 24 days while doing the AdvoCare 24 Day Challenge.
My AdvoCare 24 Day Challenge Story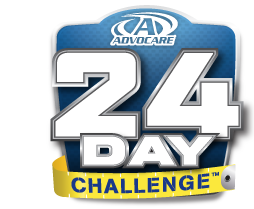 It all started in early 2013, when my Wife and I found out that we were pregnant. We were excited (and still are) about the joys that come along with having a little one. But as the pregnancy went along, my Wife struggled to work out as often as she had before and I'll be the first to admit, I got lazy and didn't work out as well.
But after our little man was born, we told ourselves that it is time to get back into shape so that we can have a lot of energy to chase around our son, and endure some of the long sleepless nights that come with having a new child.
We had a couple of friends that were talking about the AdvoCare 24 Day Challenge and how it had worked for them. So we decided to take a leap and do it for ourselves. I did the full Challenge, while my Wife did the Challenge that was okay for Breastfeeding Moms.
The 24 Day Challenge for Nursing Moms
The AdvoCare 24 Day Challenge for Breastfeeding Moms was slightly different than that of the full challenge. She couldn't' take the MNS (Metabolic Nutrition System) and she had to take the Peaches & Cream Herbal Cleanse Fiber Drink versus using the Citrus Fiber Drink.
When doing the program as a breastfeeding or nursing Mom, you should increase your caloric intake by 500 calories, and add an additional 200-300 calories on days you work out. Eat Healthy! And drink PLENTY of water! It will help your supply tremendously. I shoot for 1 gallon of water per day.
You can see more about which products we used on our challenge below.
How Hard Is The 24 Day Challenge?
With a little bit of discipline, we were able to stick to a regimen of taking the pills at certain times of day, working out each day, and learning to eat smaller meals more often versus trying to cram all of our calories into three meals. – This helps to speed up your metabolism!
I had started the AdvoCare program at 190.6 lbs and a total body measurement of 282.3 inches. I had set a goal of dropping down to at least 180 lbs during the 24 Day Challenge. We knew it would be hard work, but with the right program in place and the help and support of each other as well as our friends we knew that we would be successful.
As with anything in life, creating a plan and sticking to it will allow you to have a better chance at completing the goal. We decided that we would start eating healthier. No more going out to eat or ordering in. Get rid of the junk food, and start putting in natural foods that our body deserves after a good workout.
Honestly, the hardest part of the whole challenge was creating the plan to begin with. But once you create a schedule for yourself, push yourself to complete each task daily, the end result is fantastic.
Yes, there were days that something would come up and we wouldn't be able to eat our snack at home or get a workout during our usual time, but you have to become flexible. We learned to always have a healthy snack with us or even to carry our supplements with us when we would be leaving for hours.
We created an easy to use Template that helped us stay on task with each of the days. We will be giving this out Free to all Challengers.
Our Experience With The AdvoCare 24 Day Challenge
Many people might say that eating healthy doesn't taste great, but they would be wrong. There are MANY options for healthy eating that aligns with the same taste that you might be getting from unhealthy foods. Sometimes it is just a matter of changing a few ingredients and portion control to realize that healthy eating isn't as hard as I initially thought. (I am a very picky eater).
We learned that using smaller plates resulted in us eating less, but still getting the full feeling. You will find that since you are eating almost 6 times a day that you do not need to eat 3 big meals to feel full.
And yes, I'll be the first to admit that we broke stride a few times. Nothing too terrible, but a few small treats that I told myself that I would push myself a little bit harder in my workout to burn off.
After the first 10 days (Cleanse Phase) we measured ourselves again to see what kind of results we had. I was shocked. I had lost 5.8 lbs and around 4 1/2 inches. My wife was down 2.6 lbs and 8 inches. Seeing that progress in only 10 days really lights a fire under you to push through the next 14 days with ease.
The next 14 days (Max Burn Phase) is when you really start to see your metabolism speed up, energy increase, and seeing signs of your body losing weight. And let me tell you, they go by quickly. The more you see changes in yourself, the harder you want to work to keep reproducing those results. And being able to enjoy wanting a friend or loved one go through it with you is also very motivating.
On day 25, we stepped on the scale again and weighed and measured ourselves. We were almost in shock at how well it actually worked. As I mentioned previously…
I was down 10.2 lbs and 13 1/2 inches while my Wife was down 6.6 lbs. and 15 inches total.
Amazing!
What AdvoCare Products for Nursing Moms?
Here is a list of the products that my Wife used when doing her challenge.
Days 1-10 = Cleanse Phase:
Herbal Cleanse Peaches and Cream Fiber Drink
Meal Replacement Shake – Chocolate or Vanilla
OmegaPlex
AdvoCare Spark Energy Drink = Fruit Punch Flavored
ProBiotic Restore
Catalyst
Prenatal Vitamins
Days 11-24 = Max Burn Phase
Metabolic Nutrition System – MNS
Meal Replacement Shake – Chocolate or Vanilla
OmegaPlex
AdvoCare Spark Energy Drink = Fruit Punch Flavored
ProBiotic Restore
Catalyst
Calcium Plus
Prenatal Vitamins
What AdvoCare Products Did I Use?
Here is a list of the products that I used when doing my challenge.
Days 1-10 = Cleanse Phase:
Herbal Cleanse Citrus Fiber Drink
OmegaPlex
AdvoCare Spark Energy Drink = Fruit Punch Flavored
Probiotic
Catalyst
Days 11-24 = Max Burn Phase
Metabolic Nutrition System – MNS
Meal Replacement Shake – Chocolate or Vanilla
AdvoCare Spark Energy Drink = Fruit Punch Flavored
Probiotic
Catalyst
ThermoPlus
I have to say, that the AdvoCare Spark in Fruit Punch is still my favorite product. I've tried a lot of the flavors including; Cherry, Grape, Green Apple, Mandarin Orange, and Pink Lemonade.
It is a product that I will continue to take for a VERY long time as well as the Catalyst and a new favorite product of mine that I found after completing the challenge; Slam!
Take The AdvoCare 24 Day Challenge
Are you looking to get the same results that my Wife and I had? Well you can! Anyone can! It's just a matter of taking the necessary steps to join the challenge and set your self up for success. The products and AdvoCare program will help guide you through your day so that you can finish the challenge with stunning results.
If you want to take it now, click on the link below. You will be HAPPY that you did.
Have you taken the 24 Day Challenge and had success, we want to hear about it.
Leave your thoughts and comments below on your experiences with AdvoCare. Whether you have been a retail customer or in the business to make money online, we would like to hear your experiences.
Want To Make Money With Us?

Since 2006, we have been 'making money online'. Now, in 2015, the money team and I want to send you free gifts for ways on how to kill your JOB and generate a sustainable, substantial, sensational income.