Thought Elevators Review
Thought Elevators is a self-improvement program created by a guy named Eric Taller. The program promises to be the best way to become a more successful individual.
Discover if Thought Elevators is the real deal today in our review.
What is Thought Elevators?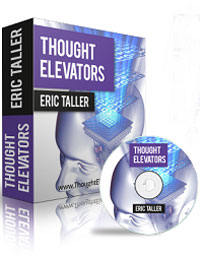 Thought Elevators, found at ThoughtElevators.com, promises to teach anyone the secrets to "creating wealth, happiness, and freedom."
Those "secrets" are brain elevation techniques. By elevating your brain to new levels of cognition, you can become a wealthier, happier, and smarter individual.
These are the same brain elevation techniques that are naturally gifted to people like Albert Einstein and Steve Jobs. Thought Elevators promises to give the key to higher thought to average people like you and me.
How Does Thought Elevators Work?
The secrets to higher thinking power come in the form of videos and audio files. You watch these videos to understand the techniques, then listen to the audio files to put your brain in a higher train of thought.
The program consists of four critical steps. As you walk through these steps, you'll eventually become a smarter, harder-working individual:
— Step 1) Clean Slate Mind: Trick your mind into removing stress and worries.
— Step 2) Priming the Positivity Pump: Trick your brain into sending positive thought signals through your body and out into the universe.
— Step 3) Daytime Dreaming: This trick gives you visualization techniques that let you visualize your desires in front of you, then force the universe to send those desires your way.
— Step 4) Meditation: This meditation technique massages your brain from deep within itself in order to start attracting success and manifesting your desires.
All of these techniques more or less involve meditation. You're focusing on something you want, concentrating your energy within your mind and body, and visualizing the positive things you want to happen.
Together, all of the above techniques promise to lead to the following benefits:
— Change Your Attitude Towards Money
— Change Your Dialogue With Family And Friends To Inspire More Positive Relationships
— Improve Your Love Life
— Unleash Hidden Talents You Never Knew You Had
— Unlock The Full Power Of Your Brain
What's Included With Thought Elevators?
Thought Elevators includes six different components:
— Thought Elevators: Videos and audio files designed to unlock the maximum power of your brain.
— Success While You Sleep: Audio file played during sleep that syncs with your brain waves to maximize your sleep cycles and wake you up feeling refreshed.
— How to Plant a Money Tree: Tips and tricks to make money and become more successful at whatever your job may be.
— Recognizing your Soulmate: A step by step road map of how to attract someone, fall in love, and know when that person is your soulmate.
— I Love Myself: An eBook that teaches you how to think more positively about yourself. It's actually more of a workbook, as you can fill in different parts of the book to complete different exercises that make you feel better about yourself.
— Manifesting Health for Boomers: This eBook is specifically targeted towards Baby Boomers and teaches them everything they need to know about building a healthy, attractive, and energetic body. It also contains special lessons about reducing aches and pains and avoiding fatigue problems as you age.
How to Buy Thought Elevators
Thought Elevators isn't available in any store. It's also not available in hard copy form anywhere you look. It's only available as an instant download on ThoughtElevators.com.
At the official website, the program costs $47. You can pay via MasterCard, VISA, American Express, and PayPal.
After you buy Thought Elevators, all of these components are instantly delivered to you online. You can download them and read/listen/watch them on any mobile device or computer.
Be careful when you're buying Thought Elevators online: the ordering form automatically checks a small box that says "Amazing Self Series (Free Trial)". That series is free for just the first month, and then it will charge your credit $37 per month (!) after that for a total of 12 months. Each month, you receive one tip to "elevate your mind and manifest your dream life." You can uncheck that box to avoid being charged hundreds of dollars.
Fortunately, Thought Elevators does come with a 60 day money back guarantee. If you're unhappy with your purchase and regret it any time within 60 days, then you can instantly get a full refund with no questions asked.
Who Should Use Thought Elevators?
Thought Elevators is a unique product that uses visual and audio stimulation to boost the power of your brain. Some people will find that it works really well, while others might find that it doesn't quite have the desired effects on their brain.
Fortunately, Thought Elevators is a simple online download: just pay $47 and you can instantly download the main Thought Elevators video/audio files along with 5 other bonus eBooks.
You can also read through the entire book and request a refund within 60 days if you don't like the lessons it contained – which means Thought Elevators is a 100% risk free purchase.
Want To Make Money With Us?

Since 2006, we have been 'making money online'. Now, in 2015, the money team and I want to send you free gifts for ways on how to kill your JOB and generate a sustainable, substantial, sensational income.