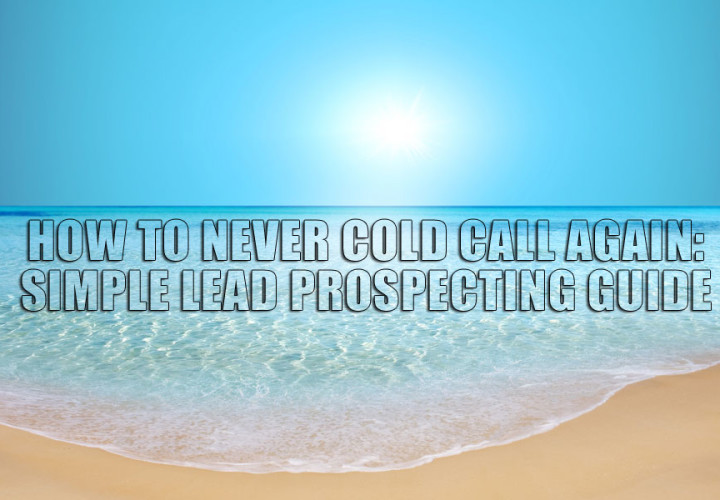 We wanted to take the necessary time and review Never Cold Call again series based on the premises of the pivotal point being made throughout the entire theme of the system and program they promote.
Simply stated, you should never be cold calling prospects and leads…ever.
In short, they should be coming to you, on autopilot, in bunches based on the bait in your lunches…
That begs to ask what is cold calling and how do we flip the proverbial switch and start doing warm callings?
Because, I'll bet my bottom dollar and the internet farm we have, that you are not here nor do you ever want to be on the phone cold calling random leads and non-interested semi-qualified prospects.
Instead, we need to intercept the passage and transition of cold to warm; and see how we can turn the after burners on when it comes to driving sizzling-hot, organically-baked and freshly-squeezed targeted leads.
We cover much more of this in our Job Killing Review, which we highly recommend if you want to murder your 9 to 5 job and start living the leveraged internet lifestyle.
Never Cold Call Review
For many businesses, cold calling is part of the job. Unfortunately, it's also despised by many salespeople and customers.
Never Cold Call promises to eliminate cold calling from your business while still giving you highly-qualified leads. Find out everything you need to know about Never Cold Call today in our review.
What is Never Cold Call?
Never Cold Call is a sales and marketing system created by New York Times best-selling author Frank Rumbauskas. It promises to show you how to generate "hot, qualified leads" with no cold calling required.
The Never Cold Call "system" comes in the form of a package mailed to your doorstep. That book covers five modules ranging from basic sales strategies to advanced online marketing techniques.
In addition to the physical copy of the book, you also get an eBook and other bonus features. Never Cold Call comes with bonus features like a 2-CD audio program with 2.5 hours of additional content, a free review of your sales system, private member forums, free lifetime product updates, and a seminar/coaching credit you can put towards future lessons.
The system comes with a free 30 day trial. The system will be shipped to your door and you don't have to pay anything but shipping.
Who is Frank Rumbauskas?
Frank Rumbauskas, according to his Wikipedia page, is a Lithuanian-American author, businessman, and satirist.
He's a genuine New York Times best-selling author. His most popular book, Never Cold Call Again: Achieve Sales Greatness Without Cold Calling, made the New York Times paperback business best seller list in July 2006. It peaked at number 8 and spent 7 months on the list.
The book is described as a how-to guide for "using e-mail, web sites and blogs to attract potential customers."
Frank claims he made his start in sales at the age of 20. He had no formal training in business and claims his "early years in sales were marked by seemingly endless failure and rejection."
Frank has written several books over the years, including:
Selling Sucks: How to Stop Selling and Start Getting Prospects to Buy! (2007)
Cold Calling Is A Waste Of Time: Sales Success In The Information Age (2003)
The Never Cold Call Again Online Playbook: The Definitive Guide to Internet Marketing Success (2009)
As you can see, Frank clearly dislikes cold calling and prefers internet marketing.
Today, Never Cold Call is headquartered at 5930 Royal Lane, Suite E-363 in Dallas Texas. If you're returning your copy of Never Cold Call, you'll send it to the company's warehouse at 4610 Prime Parkway in McHenry, Illinois.
How Do Frank's Strategies Work?
Frank claims the turning point of his sales career came when he was hired at a Fortune 100 company that didn't advocate cold calling. Frank, who had spent his whole career practicing cold calling, asked why the business didn't cold call. His manager told him, "We don't spend thousands of dollars hiring and training you to have you do the job of a minimum-wage telemarketer."
Over the years, Frank developed a number of lead-generation strategies that had nothing to do with cold calling.
Before long, Frank was being approached by colleagues to share his secrets. He was being invited to speak at events and became a highly sought-after marketing consultant.
So how exactly do all these magical strategies work?
Basically, the strategies are internet marketing tips and tricks. They include:
— Email Marketing Tips
— SEO
— PPC, Including Facebook And Google Adsense Training
— Web Development
— Content Marketing
— Blog Marketing
— Video Marketing, Viral Marketing, And Many Other Strategies
Basically, Frank's going to teach you how to reach out to a market of thousands of people online. Instead of being restricted to individually cold calling people to make a sale, Frank will show you how to build a system that automatically reaches out to an audience of thousands online – and turn that audience into your future customers.
It's not exactly revolutionary. It is, however, a good introduction to internet marketing for those who come from a traditional business background.
How to Buy Never Cold Call Online
You can only buy Never Cold Call from NeverColdCall.com. The buying process is straightforward: you fill out a "Secure Free Trial Request Form" and enter your contact information, address, and credit card number.
Your credit card will immediately be charged a $5.00 shipping fee and your package should arrive within 3-5 business days.
Then, you'll have 30 days to decide if you want to keep Never Cold Call or return it. If you want to keep it, simply hold onto the package after your 30 day trial. After your 30th day, your credit card will be charged a one-time fee of $97.
If you decide the program isn't for you, then you can return it and pay nothing (except the cost of shipping).
So what exactly are you paying for? Your Never Cold Call package will come in the mail with all of the following:
— The Never Cold Call Book And Manual (Physical Copy, Not An eBook)
— 2 CD That Contain 2.5 Hours Of Additional Content In Audio Form
— Instant Access To An Additional Never Cold Call eBook Online
The Never Cold Call program claims to come with $300 in "additional bonus downloads." Those bonus downloads probably aren't worth quite $300. They do include books like "Facebook Power Ads 3.0", "Ben Franklin's Guide to Internet Marketing Success", and "57 Foolproof Comebacks to Sales Objections."
You'll get an eBook copy of all of those books when you download Never Cold Call today.
Conclusion: Who Should Buy Never Cold Call?
Never Cold Call is an internet marketing strategy guide for those who are relatively new to internet marketing. It shows you how to take your cold calling expertise and turn it into online marketing success.
In this day and age, business owners often feel uncomfortable when they receive a cold call. According to one quote on the Never Cold Call homepage, "Over 80% of decision makers absolutely will not buy from a cold call."
By learning how to approach your target customers online (and force those customers to come to you), you can be more successful in a digital age. More importantly, you can also reach a greater number of people at the same time.
Ultimately, that means more sales and better long-term growth for your business with the help of Never Cold Call.
Want To Make Money With Us?

Since 2006, we have been 'making money online'. Now, in 2015, the money team and I want to send you free gifts for ways on how to kill your JOB and generate a sustainable, substantial, sensational income.