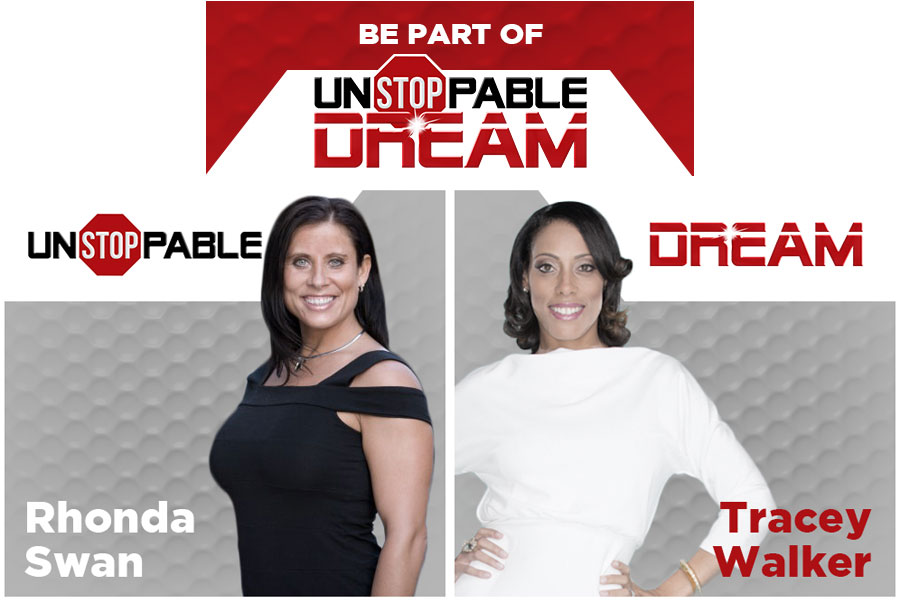 Unstoppable Dream sounds like a direction and desire everyone should strive for ultimately – or a spinoff from the late great Biggie Smalls – but instead is the latest innovation and partnering up of 2 of the industries most powerful women – Rhonda Swan and Tracey Walker – from the Empower Network leadership council team and sales force.
There are 2 different sections in which Rhonda's Unstoppable and Tracey's Dream will cover – and we will break down each of them into their sections so you know what to expect as this course becomes publicly available after the Rise Event in the Red Rock Casino, Las Vegas.
Keep in mind that Rhonda and Brian Swan (from the Unstoppable Family) have been the #1 income earner inside the Empower Network leaderboards for the past 6 months, which means you should and will be learning from one of the best team building tribes in all of network marketing space.
Let's review Unstoppable Dream product from Empower Network's leaders and see if you can inevitably learn how to grow a business and team at the same time for ultimate leverage and longevity.
Unstoppable Dream SECTION 1: The 'Sexy' Section
Building a Brand w/ Integrity & Legacy
Lesson 1 Rhonda Swan: 8 Steps to Defining your brand
Lesson 2 Rhonda Swan: Interactive Branding Workshop
Lesson 3 Rhonda Swan: Brand Personality [PDF]
Lesson 4 Rhonda Swan: Branding Business Umbrella [PDF]
Lesson 5 Rhonda Swan: Branding Cheat Sheet [PDF]
Lesson 6 Rhonda Swan: Business Name and Tagline [PDF]
Lesson 7 Rhonda Swan: Ideal Customer Workbook [PDF]
Lesson 8 Rhonda Swan: Story Telling Outline [PDF]
Lesson 9 Rhonda Swan: Super Hero's Journey [PDF]
Building a Tribe
Lesson 1 Brian Swan: Building a Tribe
Lesson 2 Brian Swan: How to Create your Perfect Day
Facebook Marketing PPC
Lesson 1 Jubril Agoro: New Facebook Fanpage Setup
Lesson 2 Jubril Agoro: New Facebook AD Setup
Turning Passion Into Profits
Lesson 1 Justin Verrengia: Turning Passion into Profits
Inner Power and Power of Belief
Lesson 1 D Verrengia: Inner Power & Power of Belief
Mindset / Solo Ad Marketing
Lesson 1 Paulo Barroso: Mindset and Solo AD Marketing
Facebook Hustle
Lesson 1 Nathan Buchan: Facebook Hustle Using Messenger
YouTube Mastery
Lesson 1 Jon Penberthy: YouTube Mastery
As you can see, there are some premium Empower Network leaders sharing their trade secrets on how they have accomplished massive success inside this space (and this is only section 1 of the new Unstoppable Dream product)
Unstoppable Dream SECTION 2: Tribe Trainings
Instagram Mastery
Lesson 1 Justin Holland: Instagram Mastery
Mindset & Law of Attraction
Lesson 1 Sarita Klees: Law of Attraction and Living Abundance
The Power of Pinterest
Lesson 1 Tiffany Hayes: The Power of Pinterest
Video Marketing & Twitter Traffic
Lesson 1 Regina and Mike: PART 1 – Cool and Sexy Videos
Lesson 2 Regina and Mike: PART 2 – Cool and Sexy Video
Lesson 3 Regina and Mike: Video Marketing Integration
Lesson 4 Regina and Mike: Maximizing your Video's Presence
Lesson 5 Regina and Mike: Understand Twitter / Free Marketing Strategies
Success Online, Momentum and Email Follow Up
Lesson 1 Vashon Borich: 10 Principles to Success Online
Lesson 2 Vashon Borich: Overcoming Stumbling Blocks
Lesson 3 Vashon Borich: Follow up and Personal Connections
Unstoppable Dream SECTION 3: Mastermind Moments
Denver Mastermind
Lesson 1 Denver Mastermind Segment (day 1)
Lesson 2 Denver Mastermind Segment (day 2)
Miami Mastermind
Lesson 1 Miami Mastermind Part 1
Lesson 2 Miami Mastermind Part 2
Bonus: The Importance of Branding
Lesson 1 BONUS: Importance of Branding
Unstoppable Dream SECTION 4: Process Perfection
Sales Funnel
Lesson 1 Process Setup: Sales Funnels
Capture Pages
Lesson 1 Process Setup: Capture Pages
Bridge Pages
Lesson 1 Process Setup: Bridge Pages
Funnel Completion
Lesson 1 Process Setup: Funnel Completion
That is the entire UNSTOPPABLE section from Empower's Unstopplable Dream product.
And now, for the DREAM part headed by first-female million dollar earner Tracey Walker.
We will update this post as the information becomes available to all of you who are seeking how to build a business online and leverage your lifestyle to the fullest!
Want To Make Money With Us?

Since 2006, we have been 'making money online'. Now, in 2015, the money team and I want to send you free gifts for ways on how to kill your JOB and generate a sustainable, substantial, sensational income.